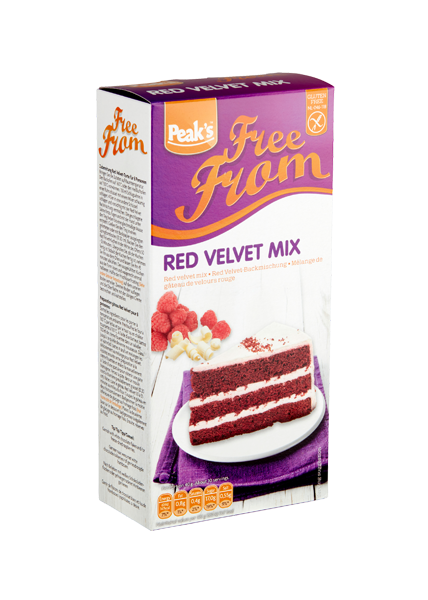 Red Velvet mix
Red Velvet mix • Red Velvet-Backmischung • Mélange de gâteau de velours rouge

INGREDIENTS
sugar, flour (rice, corn), starch (potato, corn), cocoa powder (skimmed cocoa powder; acidity regulator: potassium carbonate), raising agent (di phosphates, sodium carbonates), emulsifier (mono- and diglycerides of fatty acids), salt, coloring agent: (carmine, maltodextrin), acidity regulator (glucone delta lactone), thickener (xanthan gum).
PREPARATION 8 PERSONS
Bring the ingredients to room temperature. Preheat the oven to 160°C or hot air oven to 150°C. Beat 150 ml whipped cream in a mixing bowl with a mixer until fluffy. Beat 4 eggs in another bowl and fold carefully with the Red Velvet baking mix. Add the whipped cream and fold into the dough until it is evenly mixed. Pour the dough into a springform pan (Ø 20 cm) that has been greased or lined with baking paper. Bake the Red Velvet cake in the middle of the oven for 50-55 minutes. Check if the cake is ready. Once the cake is ready, take it out of the oven and let it cool for 45 minutes. Remove the cooled cake from the pan and cut in half horizontally. Spread half of the cream cheese frosting (see preparation) on the second base and spread the rest of the cream cheese frosting and let it cool.
PREPARATION CREAM CHEESE FROSTING
Bring 170 g cream cheese, 150 g icing sugar and 150 g soft butter to room temperature. For the frosting, beat the icing sugar and softened butter until fluffy, with the whisk of the hand mixer. Loosen up the cream cheese and add per tablespoon [Optional: add lemon juice] put the cream in the fridge. Use this cream cheese frosting to complete your Red Velvet cake.
Nutritional value per 100 gram:

energy
1535 kJ / 367 kcal
protein
3,5 g

carbohydrates

81,5 g

42,6 g

fat

2,0 g

1,0 g

food fibre

2,2 g

salt

1,37 g