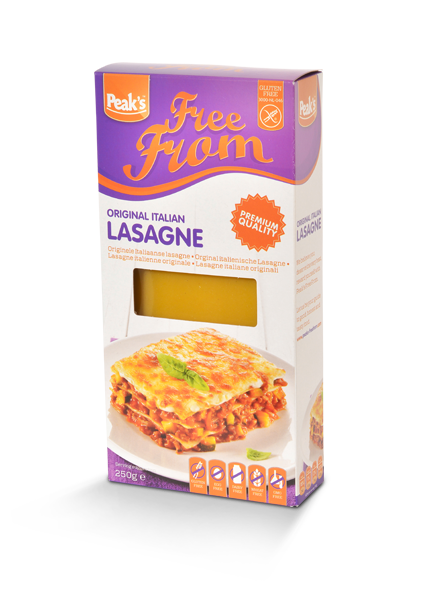 ORIGINAL ITALIAN LASAGNE
Originele italiaanse lasagne • Orginal italienische Lasagne • Lasagne italienne originale • Lasagne italiane originali

ITALIAN LASAGNE
These lasagne slices are made from rice flour and maize flour. They come pre-cooked, so no fussing with slices that stick together. You can simply spread your own sauce between the lasagne slices and then finish the dish by baking it in the oven. Buon appetito.
USE: This lasagne is ready for use; pre-cooking is not required.
PREPARATION:
Pre-heat the oven. Grease an oven dish and cover the bottom with the lasagne slices. Pour your home-made sauce over them. Apply a new layer 3 to 4 times until the dish is filled. Bake the lasagne for 30 to 35 minutes at a temperature of 180°C.
INGREDIENTS:
Corn flour, rice flour, emulsifiers (E471, E405)
ALLERGENS INFO:
May contain traces of soy.
Nutritional value per 100 gram:

energy
1534 kJ/362 kcal
fat

of which saturated
mono-unsaturated
multi-unsaturated

1.6 g

0.3 g

0.47 g

0.76 g

carbohydrates

79.9 g

0.47 g

food fibre

1.6 g

protein

6.2 g

salt

<0.1 g