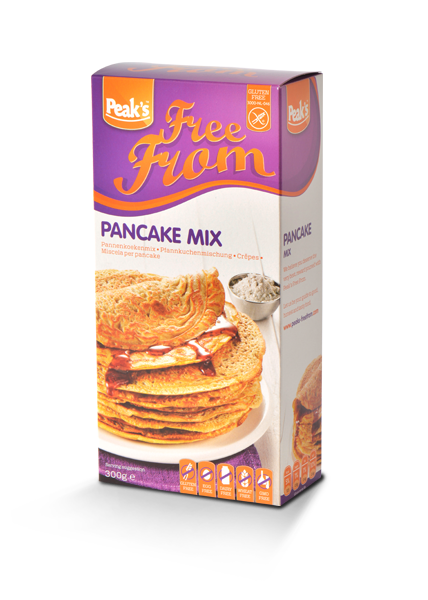 PANCAKE MIX
Pannenkoeken mix • Pfannkuchenmischung •
Crêpes • Mix per crêpe

PREPARATION:
Mix 300g pancake mix, 4 eggs and 600ml milk into a smooth batter. Melt butter/margarine in a hot pan with a non-stick coating. Put a ladle of batter into the pan and distribute it. Cook the pancake until it is golden brown on both sides.
TIP: For milk- and egg-free pancakes: use an egg substitute and 600ml soy milk.
INGREDIENTS:
Corn starch, rice flour, buckwheat flour, dextrose, leavening agent (E450i, E500ii), salt.
Nutritional value per 100 gram:

energy
1456 kJ/ 343 kcal
fat

of which saturated
mono-unsaturated
multi-unsaturated

1.3 g

0.29 g

0.48 g

0.47 g

carbohydrates

77.2 g

2.54 g

food fibre

0.9 g

protein

5.2 g

salt

0.77 g