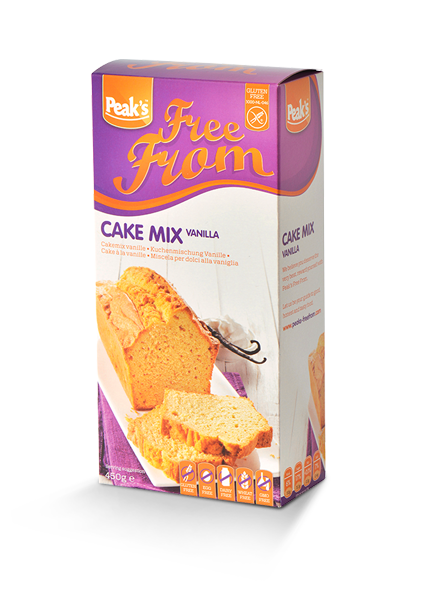 VANILLA CAKE MIX
Cakemix vanille • Kuchenmischung Vanille •
Cake à la vanille • Miscela per dolci alla vaniglia

VANILLA CAKE MIX
This tasty cake mix includes ingredients such as rice flour, maize flour and potato starch flour. A little vanilla and caramel were added to ensure a fine flavour. Great fun, baking a cake with your kids on a free afternoon!
PREPARATION FOR 3-4 PERSONS:
Ensure ingredients are at room temperature. Take 225g margarine or butter and mix it into a smooth batter. Add 4 eggs and 450g cake mix. Whip it for a few minutes to create a light texture. Pour the batter into a large cake tin or two smaller tins. Bake the cake for 50 to 60 minutes at a temperature of 180°C.
Tip: Use an egg substitute for an egg-free recipe.
INGREDIENTS:
Sugar, rice flour, corn flour, potato starch, leavening agent (E450i, E500ii), salt, emulsifier (E471), anticoagulant agent (E575), thickening agent (E415), vanilla flavouring (0,25%), (sugar, dextrose, anticoagulant agent E504,E1520) maize starch, colouring agents (E150a).
Nutritional value per 100 gram:

energy
1556KJ/367 kcal
fat

of which saturated
mono-unsaturated
multi-unsaturated

1.0 g

0.56 g

0.25 g

0.15 g

carbohydrates

86.1 g

51.07 g

food fibre

1.4 g

protein

2.6 g

salt

0.6 g