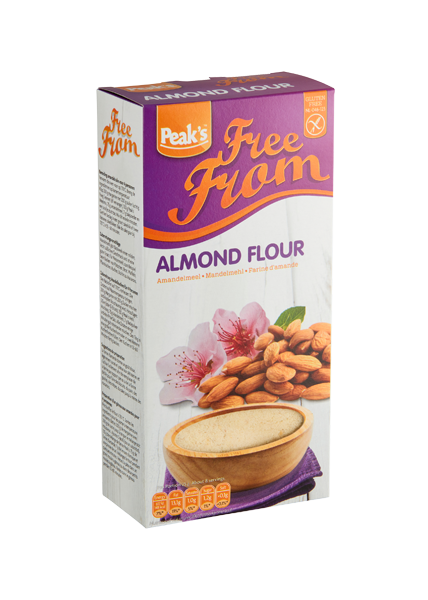 Almond flour
Amandelmeel • Mandelmehl • Farine d'amande

INGREDIENTS
Blanched almonds 100%
ALLERGENS
Almond
USE
Almond flour gives baked goods a soft, slightly sweet flavour and is perfect to use as a flour replacement instead of, for example, wheat flour, for baking biscuits, bread, waffles, pancakes, cake and macarons.
PREPARATION ALMOND CAKE
Preheat the oven to 170°C. Bring the ingredients to room temperature. Beat 200 g margarine and 200 g sugar until fluffy. Add 4 eggs (or substitute), 150 g Peak's Flour mix, 75 g almond flour, 7 g baking powder and a pinch of salt. Beat for a few minutes. Pour the batter into a large cake tin or two smaller cake tins. Bake the cake in 55-60 minutes.
Nutritional per 100 gram:

Energy
2466 kJ / 590 kcal
Protein
21,4 g

Carbohydrates

18,7 g

4,6 g

Fat

52,5 g

4 g

Food fibre

9,9 g

Salt

0,1 g