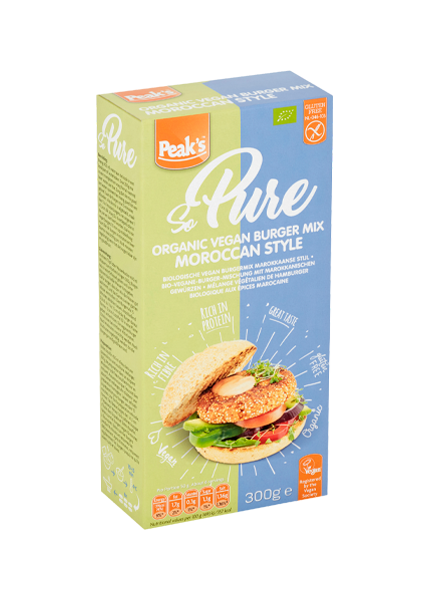 Organic Vegan Burger Mix Moroccan Style
Bio Vegan Burgermix Marokkaanse Stijl • Bio-Vegane-Burger-Mischung Mit Marokkanischen Gewürzen • Mélange Végétalien De Hamburger Biologique Aux Épices Marocaine

Organic Vegan Burger Morrocan Style

Ingredients:
quinoa*, red lentil flakes*, rice flakes*, pea protein*, potato starch*, natural flavouring*, Ras-el-Hanout spices 4,5%*, psyllium fibre*, sea salt, garlic powder.
*From organic agriculture.
Preparation:
Bring 400 ml water to a boiling point in a cooking pan or in a water heater. Add the water to 300g burger mix in a bowl and stir until combined. Let the mixture cool for 15 minutes before shaping the burgers. Shape 5 á 6 burger patties. The burgers should be about 1 à 1.5 cm thick. Add 3 à 4 tablespoons of sunfl ower oil to a non stick frying pan. Heat up the oil and fry of the vegan burgers for 10 minutes on a medium heat. First 4 minutes on one side, fl ip the burger and bake for another 4 minutes. After 8 minutes turn the burgers frequently so they bake golden brown on both sides.
Nutritional value pro 100 g:

energy
1439 kJ / 357 kcal
protein
20,0 g

carbohydrates

58,0 g

2,5 g

fat

3,4 g

0,5 g

food fibre

6,4 g

salt

2,71 g