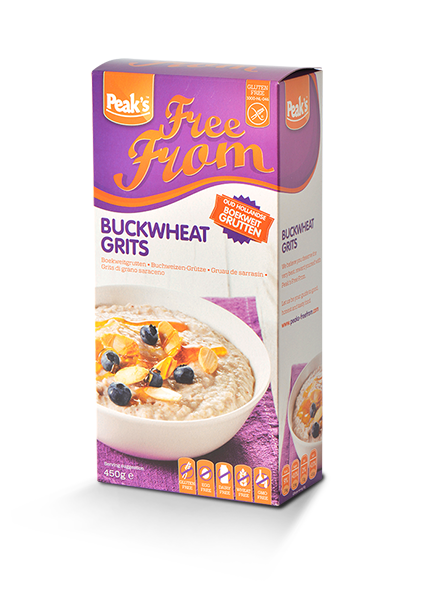 BUCKWHEAT GRITS
Boekweitgrutten • Buchweizen-Grütze •
Gruau de sarrasin • Grits di grano saraceno

BUCKWHEAT GROATS:
Buckwheat is seen as a grain , but it is not. It comes from a plant of the knotweed family . Naturally buckwheat is glutenfree! In Eastern Europe, buckwheat is still hugely popular. There they make porridge , " kasha " . Cook the grits here in some milk . Garnish your porridge with syrup , honey or sugar. Then some butter. A perfect breakfast! The buckwheat Peak's is free from eggs, milk, wheat and GMO free.
PREPARATION:
Add a pinch of salt to 200ml milk and bring it to the boil. Disperse 50g Peak's buckwheat groats in the boiling milk while stirring. Keep stirring frequently and let the mixture boil softly for approx. 5 minutes. Serve the porridge e.g. with syrup or butter and sugar.
Tip: Use a milk substitute for a milk-free recipe.
INGREDIENTS:
100% buckwheat
Nutritional value per 100 gram:

energy
1475 kJ/348 kcal
fat

of which saturated
mono-unsaturated
multi-unsaturated

2.6 g

0.57 g

0.97 g

0.95 g

carbohydrates

70.5 g

0.86 g

food fibre

2.1 g

protein

9.6 g

salt

<0.1 g