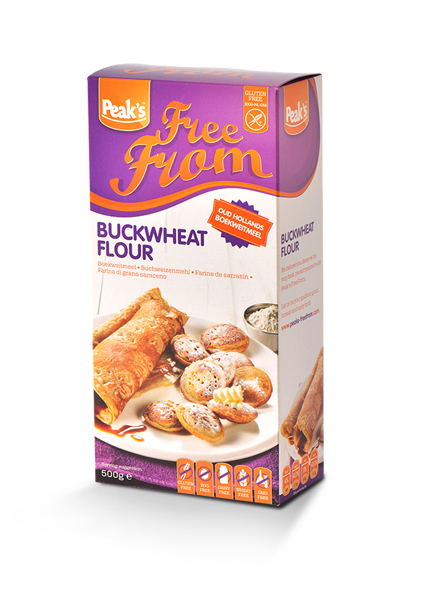 BUCKWHEAT FLOUR
Boekweitmeel • Buchweizenmehl •
Farine de sarrasin • Farina di grano saraceno

Why buckwheat?
Buckwheat is not a grain. It is actually a bush fruit. Buckwheat is very suitable for people with an allergy or sensitivity to gluten and therefore suitable in a gluten-free diet.
Ingredients:
100% buckwheat
Recipe for buckwheat biscuits
INGREDIENTS:

150g Peak's buckwheat flour
4 eggs
150g granulated sugar
150g butter
approx. 5g ground cinnamon
approx. 5g nutmeg
approx. 5g clove powder
50g Peak's crunchy
a bit of apricot jam

TIP: Use an egg substitute for an egg-free recipe.

Pre-heat the oven to 175°C. Divide the eggs into yolk and egg white. Whip the four egg whites and granulated sugar into a rigid mass in a grease-free batter bowl. Use a second batter bowl to whip the four egg yolks and the batter lightly together; mix it with the buckwheat flour and spices. Scoop the egg white/sugar mix carefully through the buckwheat mixture. Fill a greased spring form with the batter. Sprinkle the crunchy on the top of the batter. Bake the buckwheat cake in the oven for 45 minutes at 175°C until it is done and golden brown. Let the cake cool. Cut the cake into two layers and cover the lower layer with apricot jam; then place the upper layer on top.
Nutritional values per 100g:

energy
1482 kJ/ 350 kcal
fat

of which saturated
mono-unsaturated
multi-unsaturated

3.2 g

0.66 g

1.23 g

1.17 g

carbohydrates

65.9 g

1.16 g

food fibre

3.0 g

protein

12.9 g

salt

<0.01 g