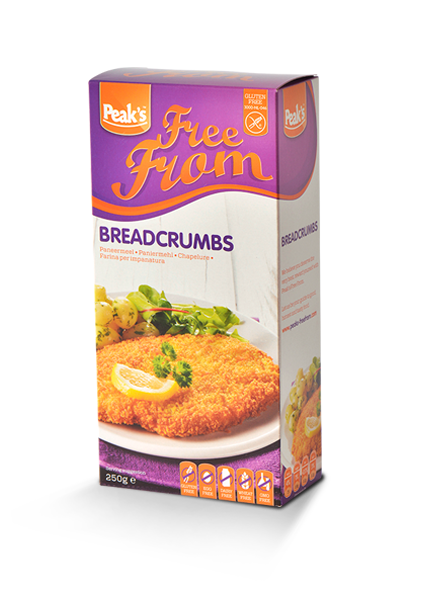 BREADCRUMBS
Paneermeel • Paniermehl • Chapelure • Pangrattato

BREADCRUMBS:
This versatile product consists of 96% rice flour and a dash of turmeric powder and sweet pepper powder, among other things, to ensure a fine taste. The applications are very broad: you can firm up your spinach, add breadcrumbs to your chicken or meat, and thicken soups and sauces. This is the panacea for creative gourmet cooks.
INGREDIENTS:
100% breadcrumbs (96% rice flour, 3% dextrose (corn), salt, emulsifier: E471, turmeric powder, sweet pepper powder, antioxidant: E306).
HOME-MADE FISH FINGERS/SCHNITZEL
Sprinkle pepper and salt on the fish/pork cutlets. Beat the egg. Run the cutlet through the egg mixture and then sprinkle breadcrumbs straightaway. Add extra spices, if you wish. To be baked at a moderate temperature for approx. 10 minutes. Necessities: fish/pork cutlets, breadcrumbs, 1 egg, pepper and salt.
Tip: Use an egg substitute for an egg-free recipe.
STORAGE ADVICE:
Store this product in a cool and dry place.
Nutritional value per 100 gram:

energy
1559 kJ / 365 kcal
fat

of which saturated
mono-unsaturated
multi-unsaturated

1.0 g

0.3 g

0.3 g

0.4 g

carbohydrates

81.0g

4.0 g

food fibre

1.0 g

protein

8.0 g

salt

0.36 g