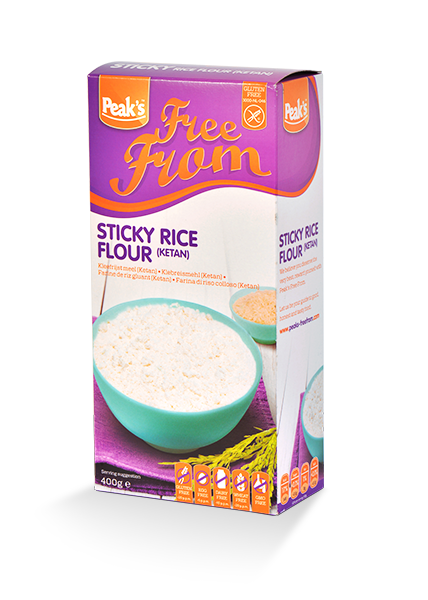 STICKY Rice flour (KETAN)
Kleefrijst meel (Ketan) • Klebreismehl (Ketan) • Farine de riz gluant (Ketan) • Farina di riso colloso (Ketan)

Recipe for brioche muffins:
Amenities:
100g buckwheat flour (Peaks Free From), 200g ketan rice flour (Peaks Free From), 200g universal baking mix (Peaks Free From), 2g salt, 4 eggs, 3 tbsp sugar, 1 tbsp sunflower oil, 125ml tepid milk, 18g yeast, 150g butter (melted or cut into blocks),
2 egg yolks, 1 tbsp whipping cream.
Preparation:
Whisk the eggs and sugar until light and fluffy in a bowl. Put the three kinds of flour in another bowl with the salt and mix. Stir in the milk, oil and yeast. Combine with first mixture and mix to an elastic batter with dough hook. Pre-heat oven to 50°C then switch off. Cover dough with a damp tea-towel and let it rise for 30 min. Using a dough hook, mix butter into dough. Pre-heat oven to 175°C. Place a dish of water at the bottom of the oven and bake the muffins in the centre of the oven for 10 min. Whisk egg yolks with cream and use this to glaze the muffins. Bake for a further 10 min. at 170°C.
Tip: Use an egg substitute for an egg-free recipe.
Ingredients:
Rice (100%)
Nutritional value per 100 gram:

energy
1479 kj /348 kcal
fat

of which saturated
monounsaturated
polyunsaturated

0.8 g

0.23 g

0.26 g

0.28 g

carbohydrates

78.3 g

<0.1 g

food fibre

0.6 g

protein

6.7 g

salt

<0.1 g