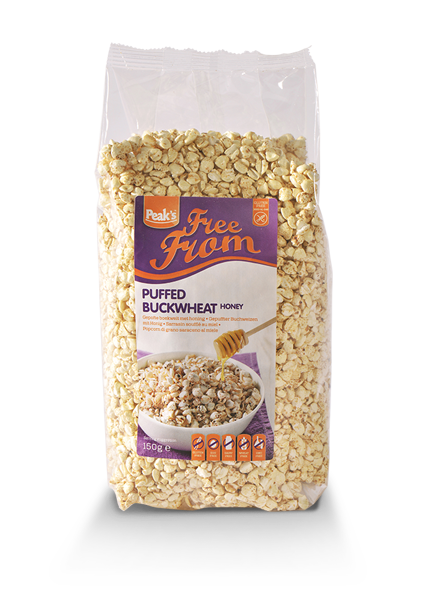 Puffed buckwheat honey
Gepofte boekweit met honing • Gepuffter Buchweizen mit Honig • Sarrasin soufflé au miel • Popcorn di grano saraceno al miele

POPPED HONEY-FLAVOURED BUCKWHEAT:
As with maize grains, buckwheat groats can be popped. The result: 'buckwheat popcorn', which we have sweetened with natural honey. Tasty and healthy; the kids just love it. GMO-free, i.e. without genetically modified organisms.
INGREDIENTS:
Buckwheat, honey (15%)
TIP FOR SERVING:
Can be used as a snack or breakfast.
NUTRITIONAL VALUES PER 100G:

energy
1640 kJ/387 kcal
fat

of which saturated
mono-unsaturated
multi-unsaturated

2.0 g

0.55 g

0.71 g

0.66 g

carbohydrates

83.4 g

24.92 g

food fibre

2.1 g

protein

7.7 g

salt

<0.1 g