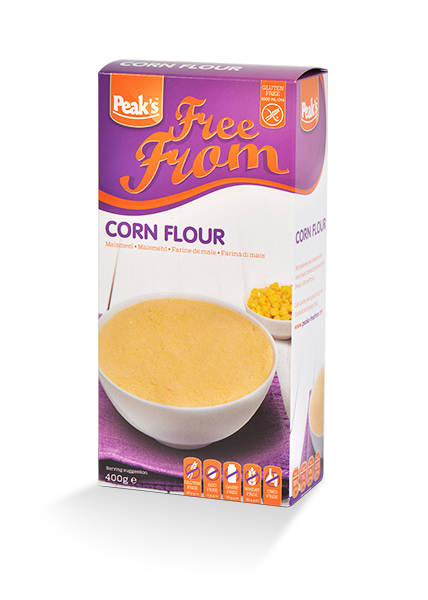 CORN FLOUR
Maismeel • Maismehl • Farine de maïs • Farina di mais

INGREDIENTS:
Corn (100%)
RECIPE FOR CHOUX PASTRY PUFFS:
Amenities:
For the dough: 50g butter, 3g salt, 1 sachet vanilla sugar, 1 tbsp granulated sugar, 50g universal baking mix (Peaks Free From), 50g maize flour, 50g maize starch, 5 eggs, 250ml water. For the filling: 250ml whipping cream, sugar to taste.
PREPARATION:
Cover the baking tray with baking paper and pre-heat the oven to 180°C. Put 250ml water into a pan with the butter, salt, vanilla sugar and sugar and bring to the boil. Mix the universal baking mix with the two kinds of flour and add it to the pan. Keep stirring until the dough comes loose from the sides of the pan. Remove from the heat and stir in the eggs one by one. Stir for a few minutes after each egg. Using a piping bag, make 12 small balls. Bake for 30 min. Cut open and allow to cool. Whip the cream until stiff and use it to fill the puffs.
TIP: Use an egg substitute for an egg-free recipe.
Nutritional value per 100 gram:

energy
1481 kj /350 kcal
fat

of which saturated
monounsaturated
polyunsaturated

2.9 g

0.53 g

0.75 g

1.5 g

carbohydrates

73.0 g

1.25 g

food fibre

4.0 g

protein

5.9 g

salt

<0.1 g