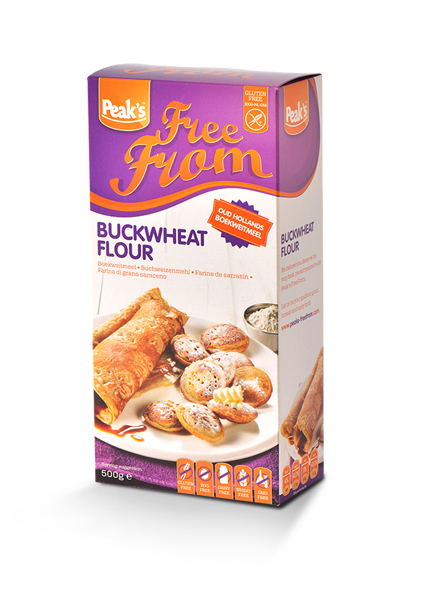 BUCKWHEAT FLOUR
Boekweitmeel • Buchweizenmehl •
Farine de sarrasin • Farina di grano saraceno

Why buckwheat?
Buckwheat is not a type of cereal. Actually, it is a fruit seed and it is rich in protein and vitamins. This makes buckwheat popular with (power) sportsmen and women. Buckwheat is very suitable for people with an allergy or sensitivity to gluten, and therefore it fits in with a gluten-free diet. Buckwheat is related to a reduction of risk factors such as cholesterol and high blood pressure. It contains a high manganese and magnesium content and it is rich in amino acids such as lysine. Furthermore, buckwheat has a high rutin content, which is beneficial for the blood vessels.
Ingredients:
100% buckwheat
Recipe for buckwheat cake
INGREDIENTS:
150g Peak's buckwheat flour
4 eggs
150g granulated sugar
150g butter
approx. 5g ground cinnamon
approx. 5g nutmeg
approx. 5g clove powder
50g Peak's crunchy
a bit of apricot jam
TIP: Use an egg substitute for an egg-free recipe.
Pre-heat the oven to 175°C. Divide the eggs into yolk and egg white. Whip the four egg whites and granulated sugar into a rigid mass in a grease-free batter bowl. Use a second batter bowl to whip the four egg yolks and the batter lightly together; mix it with the buckwheat flour and spices. Scoop the egg white/sugar mix carefully through the buckwheat mixture. Fill a greased spring form with the batter. Sprinkle the crunchy on the top of the batter. Bake the buckwheat cake in the oven for 45 minutes at 175°C until it is done and golden brown. Let the cake cool. Cut the cake into two layers and cover the lower layer with apricot jam; then place the upper layer on top.
NUTRITIONAL VALUES PER 100G:

energy
1482 kJ/ 350 kcal
fat

of which saturated
mono-unsaturated
multi-unsaturated

3.2 g

0.66 g

1.23 g

1.17 g

carbohydrates

65.9 g

1.16 g

food fibre

3.0 g

protein

12.9 g

salt

<0.01 g