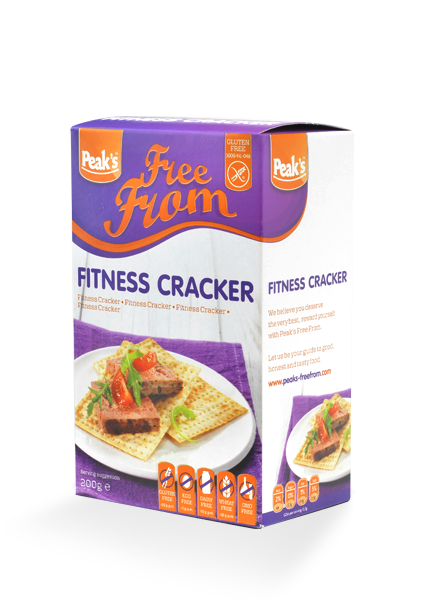 FITNESS CRACKER
Fitness Cracker • Fitness Cracker •
Fitness Cracker • Fitness Cracker
WHY PEAK'S FITNESS CRACKER?
The main component of our Fitness Cracker are sprouted soybeans that are cooked after germination (pasteurized ) and then grind. This is a new and unique process which creates tremendous nutritional benefits. During the process of soy sprouts are there in the soybean enzymes activated needed as energy for the bean to sprout. This produces an increase in fibers.
Throughout the germination process the carbohydrates and proteins are changed into less intricate shapes giving the product a better taste and making the crackers easier to digest.
INGREDIENTS:
(sprouted soya bean cooked, ground, pasteurised, 47%), potato flour, corn flour, potato starch, corn starch, salt.
ALLERGENS INFO:
Soy. Prepared in a factory in which sesame seed is also processed.
STORAGE:
Store in a dry place, protected from direct sunlight.
Nutritional value per 100 gram:

energy
1603,5 kJ/383 kcal
fat

of which saturated
monounsaturated
polyunsaturated

7.1 g

1.0 g

1.4 g

4.2 g

carbohydrates

61.7 g

2.2 g

food fibre

8.1 g

protein

13.4 g

salt

1.0 g